About me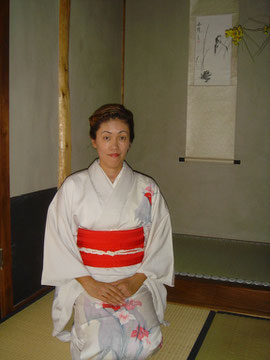 My Name :Fukumi ZAPP
  Japanese Folk Craft Artist
・Born and raised in Japan.
・Associate's degree from Women's Junior College of Fine Arts in Tokyo, Japan.
・Extensive knowledge of Japanese Arts & Culture, including, but not limited to the traditional Japanese Tea Ceremony, and Kimono preparation.
2001: Began creating Origami Art work, such as making the Sakura (Cherry-blossom) ball, pop-up greeting cards, stencils, and Mizuhiki.
2004 to 2006: Behind the Scenes Volunteer at the Smithsonian Inst. and the National Children's Museum in Washington, D.C. (to be instructor and lectured on Origami Workshop, demonstrating the tea ceremony and kimono dressing).
2006: A vender for the Arthur M. Sackler Gallery, Smithsonian Institution.
2007: A vender at the Family Arts Festival in Tucson AZ.
2008 to 2015: A Presentations at the Japanese Speech Contest in Tucson AZ, including Origami, Furoshiki, and Temari.
2011 to precent: Art Presentations at the Tucson Meet Yourself in Tucson AZ. 
2012: A demonstration how to use Furoshiki, " The Asian Heritage Month" lunch with the staff at the FBP (Federal Bureau Prison), in Tucson AZ.
2012 to 2013: A demonstration of Japanese art, The Asian Pacific Heritage Month Event at the Raytheon company, in Tucson AZ.
2015 to precent : A demonstration of the tea ceremony at Arizona Asian Festival, in Scottsdale Civic Center Mall, Scottsdale AZ. 
2016: A vender at Mesa Music Festival in Mesa, AZ.
2017: A vender at Matsuri Festival in Arizona
2017: A vender at Matsuri Festival in Santa Fe, NM                                                                                                                        05/22/2018 update