Mizuhiki (水引)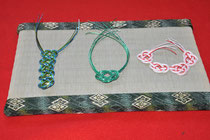 Mizuhiki has the history of more than 1400 years.
Japanese delegate brought the gifts from China to Japanese Emperor (Asuka preiod, 7th century).
They were wrapped with the red abd white twines.  It was extension of prayers for safety on the road. 
These docorations developed and become known as Mizuhiki and Japanese tradition.
Mizuhiki is a paper cord.
Material is washi paper which is one of the most durable papers in the world.
And coloing thin silk or, plastic mylar tape, etc.